Assalamualaikum brothers and sisters,
Wishing you all a happy and blessed Ramadan. Hope you all are in high spirits and good health. May Allah protect us, Aameen.
This year, Ramadan is a different experience for all of us with the COVID-19 Lockdown. Unfortunately, we are not able to perform our obligatory Salah and Taraweeh prayers at Masajids in congregation and is really saddening. However, Almighty Allah has showed us many avenues to get more rewards. One of those avenues is giving charity to the needy and poor. Ramadan is the best month to do that as it multiplies the rewards. 
NANMMA continues to collect Sadaqah and Zakat from our community again this year. Please send your generous contributions to NANMMA. Interac or E-transfer your Zakat and Sadaqah funds to the emails given below:
zakatcanada@nanmmaonline.org
sadaqahcanada@nanmmaonline.org
Prophet Muhammad ﷺsaid: "Give charity without delay, for it stands in the way of calamity." (Al-Tirmidhi).
Jazak Allahu Kheiren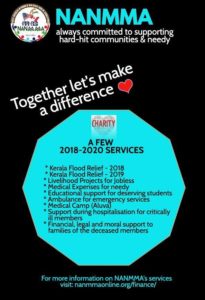 NANMMA Charity