---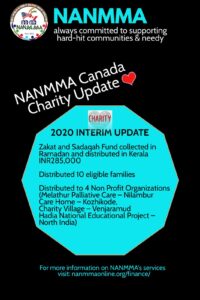 Assalamu alaikum,
Zakat and Sadaqah Fund collected in Ramadan 2020 has been distributed to 10 eligible families and 4 Non-Profit Organizations in Kerala (Melathur Palliative Care – Nilambur, Care Home – Kozhikode, Charity Village – Venjaramud and Hadia National Educational Project – North India).
Each family was distributed with ₹20,000 –₹ 25,000 and non-profit organizations with ₹20,000 each.
Jazak Allahu Kheiren to those who contributed. May Allah accept from all of us and put Barakah into our dealings, Aameen.
Currently NANMMA is releasing Emergency Fund to people affected by flood and landslide in Kerala. Applications are invited from eligible beneficiaries that are affected by flood/landslide. Families affected by 2018-19 floods, still struggling to rebuild their home or restoring their livelihood may be considered.
Please send your requests to reliefcanada@nanmmaonline.org or reach out to Shanavas at (403) 909 8061 if you have any question.
Jazak Allahu Kheiren
NANMMA Canada Charity Team